Book Review: The Night of Four Hundred Rabbits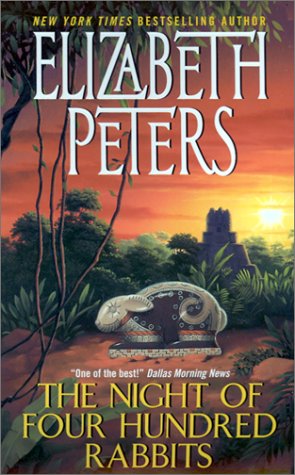 GUYS. I do not even know what to say about this book.
Well, I do, actually. It was weird as hell, especially for esteemed mystery madame Elizabeth Peters.
A quick primer: Elizabeth Peters is the pen name of Barbara Mertz (a.k.a. Barbara Michaels as well), and she's well known for writing clever, adventuresome thrillers and mysteries with romantic and often gothic twists. Her heroines are realistic (exception: Vicky Bliss), her heroes are lovably Byronic, and her writing is superb.
Sadly, Ms. Peters passed away in 2013, so of course I have turned into some kind of mad creepy hoarder who is trying to space out the remaining books I haven't yet read by her so that they last me the rest of my lifetime. (Yes, I have made peace with my weirdness.)
So imagine the scenario: I decide that IT'S TIME, lift one of my few precious unread Elizabeth Peters book from its pristine pile, open the cover, and… WTF, The Night of Four Hundred Rabbits?!
It starts off like most Elizabeth Peters (and many Barbara Michaels) mysteries do: an intelligent, naive-yet-proto-feminist young woman laments the dull trivialities of everyday life, and shares with us a relatable flaw or two before being whisked away to some exotic location where she'll have to solve a mystery and fall for a brusque yet charming Byronic hero…
I didn't want to talk about anything else but Danny… blond, blue-eyed, handsome, and brilliant…
Okay, so our heroine has a pre-existing boyfriend. That's fine. It's just unusual for Ms. Peters' novels (where the heroines are generally fed up with men), and because of that, I think it's important. More on this later.
We get to meet Danny a little further on in Chapter One, and he's… well:
"You aren't high, are you, Danny? Not now?"
His long, sensitive mouth—my barometer for measuring his moods—tightened, and then relaxed. "Honey, you are so hopelessly square. I don't get high on pot. Nobody gets high on pot, they just get a happy glow. If you'd try it yourself… You know I don't smoke when I'm driving." […]
"I'm sorry," I said humbly. 
"Don't be sorry. Don't ever be sorry."
Drugs? College-age protagonists? Off-kilter 1970s jargon? A female character who bows to the Almighty Boyfriend, who in this case appears to be at least somewhat emotionally abusive?
WHO ARE YOU AND WHAT HAVE YOU DONE WITH ELIZABETH PETERS?
The novel, unsurprisingly, continues. Our protagonist, the rather drab and forgettable Carol Farley, receives a Mexican newspaper clipping containing a photo of her father—whom for years she had thought dead. (HOORAY! ADVENTURE!) So she and Danny zoom off to Mexico to figure out what's going on.
But not before Danny has another rant:
"And he thinks grass is the devil's weed."
"Oh," I said helplessly. That's about all I could say. Any hint of 'I told you so' would have enraged Danny.
"That was all Hermie needed. He wouldn't care if I got stoned on Scotch every night—so long as it was the best Scotch. But pot! No, no, bad boy!"
Danny is a treasure.
Actually, this is another first for Ms. Peters, whose characters are often so powerful because you love them. And you love them because she loves them—even the bad guys. She revels in every character she writes, delights in them, in their heroic moments and flaws alike.
But Danny is the first Elizabeth Peters character I've come across who creates a reaction of disgust—an actual physical twinge—in my gut. As the novel progresses, he becomes more and more of a caricature, his actions more and more despicable. He is an emotionally abusive drug addict, and he is loathsome, and this is noteworthy for Ms. Peters, as I think Danny is the first character she's ever written who she herself has actively hated. More on this later.
So anyway, they arrive in Mexico, and then DRUGS DRUGS DRUGS DRUGS DRUGS. Seriously. Danny buys a bunch of drugs from some dude named Jesus, and then they…
***SPOILER ALERT***
…find Carol's dad, who, in addition to being mixed up in a heroin ring, is really poorly written.
And (in addition to the drugs), that's the next very non-Elizabeth Peters point about this book: overall, the characters act like inexpertly animated marionettes, jerky and halfhearted. I still can't figure out what she was going for with the character of Carol's father, George:
"Carol," the man said.
He moved forward…Tongue-tied, I struggled for a response.
"Carol? he said again; this time there was a questioning lift to his voice. He took another step forward. "It is you, isn't it? You look just as I expected you would."
[…] I didn't show my emotion; I was afraid of it. "Hello," I said, and held out my hand.
[…] There was an awkward fumble before our fingers met, and the clasp of hands was brief, by mutual consent.
[…] "Well. won't you come in, both of you?"
Uh, what? You think your father is dead for years and years, you track him to Mexico… and when you find him, you SHAKE HANDS, and then he politely invites you inside his secret Mexican drug house like NOTHING IS OUT OF THE ORDINARY?
I'm an extremely empathetic person—too much so, sometimes. So it's usually very easy for me to understand characters' motives, take a walk in their shoes, all that good stuff.
But I am genuinely baffledby this exchange. Carol's reunion with her father is a huge letdown. Even now in rereading it, I simply don't get it. Why are they being so stiff and weird? It's been revealed that Carol is a passionate person. Why is she acting like this?
Anyway. George has moved in with this hot lady and her hot son, both of whom have inexplicably Russian names despite being Mexican. (Seriously, the hot son's name is Ivan Oblensky.)
Anyway. Weird, stilted dialogue follows, as does a tour of Mexican hotspots. Danny and Ivan do a bunch of drugs. They talk about legalizing pot. They talk about LSD and "snow" (heroin), as well as mushrooms and teonanacatl and peyote and dex and bennies and NO I AM NOT KIDDING THIS IS AN ELIZABETH PETERS NOVEL.
Many more drugs later, Carol realizes she's being followed by a Mystery Man. Ivan's hot mom tries to talk Carol into leaving town. Carol beings to suspect her dad is involved in the drug trade. She then goes to a party, where Danny does a bunch more drugs and makes out with some random girl (one of many steps into said loathsomeness).
The book trundles along much like our protagonist's drunk/stoned/strung-out boyfriend, leaving us, like her, more than a little confused and disappointed…
Continue reading my review on my website, the Book Junkie Blog!